The International Organization of Economic Cooperation and Development defines unpaid labor as a time spent doing routine housework, shopping for necessary household goods, childcare, and other unpaid activities related to household maintenance - which remains largely invisible to economists.
According to recent Oxfam research, the monetary value of unpaid care work globally for women aged 15 and over is at least $10.8 trillion annually, three times the size of the world's tech industry.
According to the International Labor organization report, women and young people face obstacles to their participation in the labor market. Contemporary labor markets continue to be characterized by gender inequality. In 2018, the female labor force participation rate was just 47 per cent, 27 percentage points below the male rate (at 74 per cent). A staggering 267 million young people aged 15 to 24 worldwide (or 22 per cent of that age group) are not in employment, education or training. Moreover, many of the young people who are in paid jobs face barriers to decent work.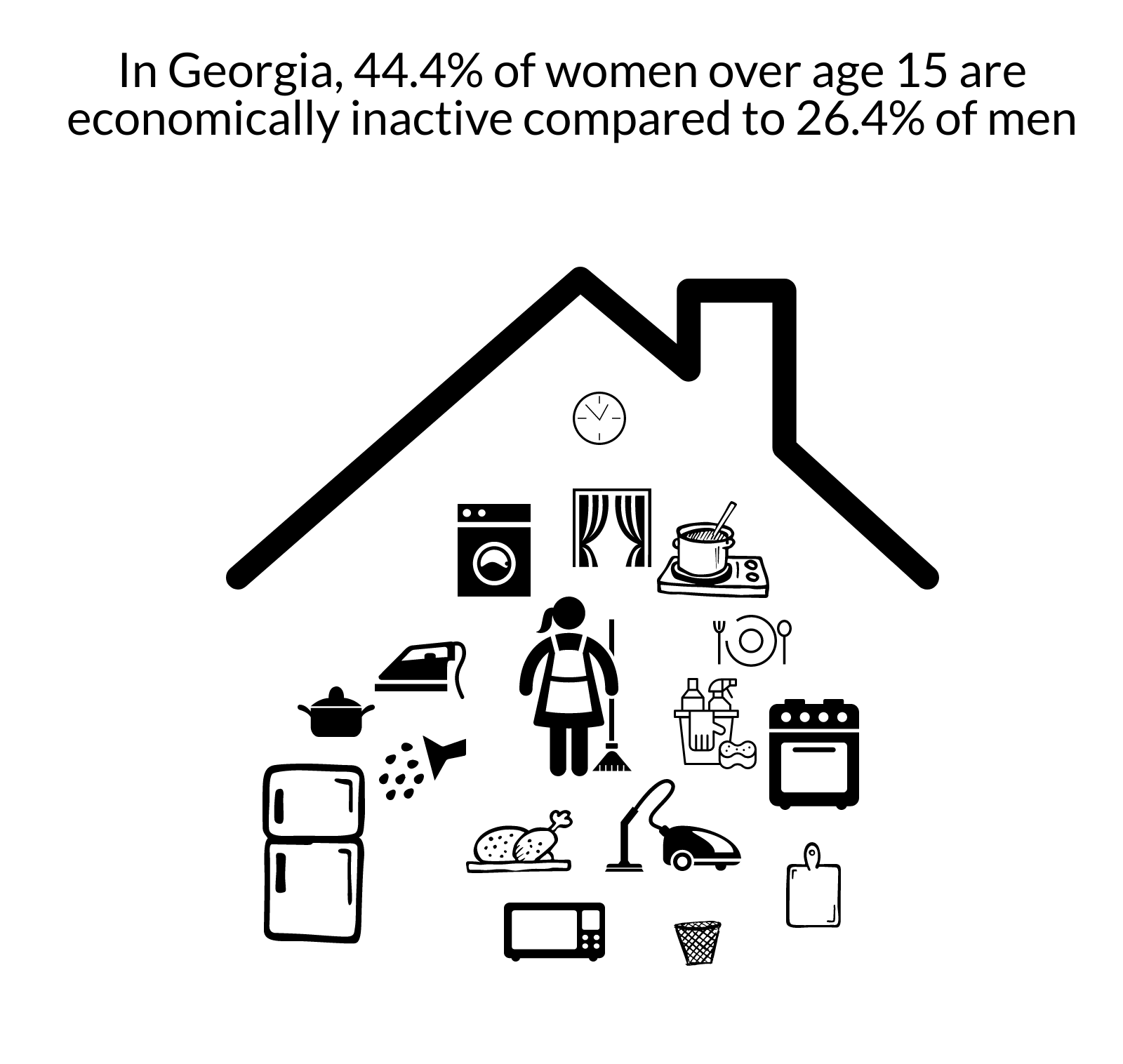 Researchers at the World Economic Forum estimate it will take another century before every country achieves gender parity. According to global gender gap report 2020, Georgia scores 74 among 153 countries ranking.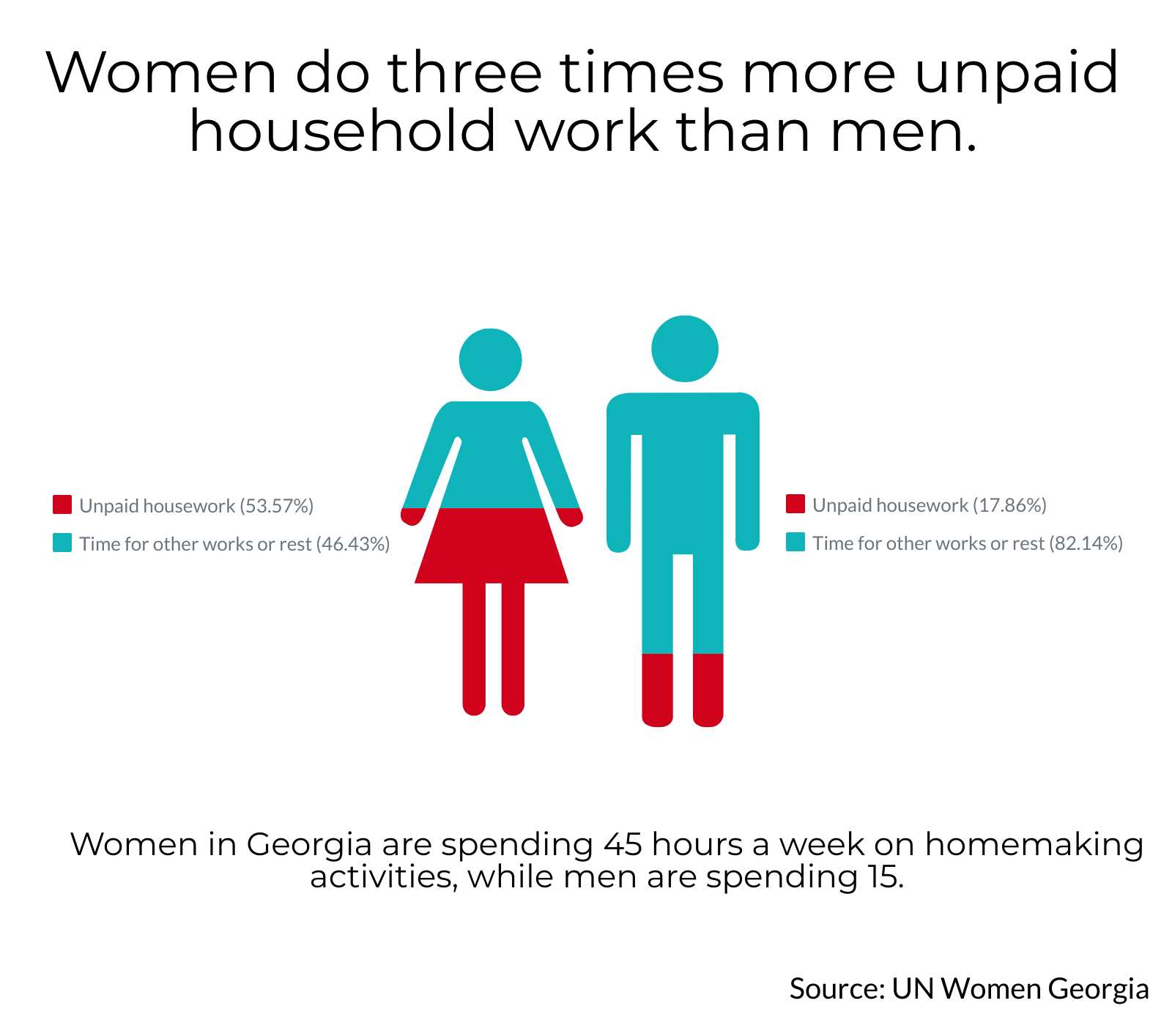 According to the latest UN Women report on Georgia, women do three times more unpaid household work than men. Women are spending 45 hours a week on homemaking activities, while men are spending 15.
Women's unfair domestic work burden also limited access to jobs. In Georgia, 44.4% of women over age 15 are economically inactive (neither employed nor seeking employment), compared to 26.4% of men. (UN Women, 2018 data.) The gender pay gap affects the division of domestic labor.
Nino Beria, 52 years old, married
Different studies confirm the COVID-19 pandemic has dramatically affected most working women, unemployed women, and homemakers. Women locked in during quarantine and working from home have to do housework and take care of children, since schools and day-care centers are closed. Women make up more than half of low-wage and essential workers during the pandemic. Almost 90 percent of nurses are women, and women are the majority of child care workers, housekeepers, cleaners, maids, nursing assistants and home health aides in elder care and rehabilitation facilities. Food preparation and service jobs, another example of essential work during quarantine, are held mainly by women.
According to Women's Policy Research in the U.S., more than 60 percent of female workers have lost jobs because of the Corona virus.
In Georgia, a survey conducted by the Georgian Chamber of Commerce with 600 business owners revealed that women are 24% more likely to dismiss their employees than men. 6 Women without work during a pandemic are likely to get stuck at home dealing with domestic labor.
Mariam Giorgadze, 18 years old, unmarried
According to mental health specialist Rusudan Zaalishvili, women worldwide are more vulnerable to economic shocks wrought by crises such as the corona virus pandemic. She says the Covid-19 pandemic will negatively influence women not only physically, but also emotionally and economically. Zaalishvili says responses to the pandemic shouldn't be gender blind, or else women will carry a heavier economic burden than men.
Rusudan Zaalishvili, mental health specialist
Views expressed in this multimedia product do not necessarily represent the views of UN Women or its donors. This material was produced in the framework of the project ' Women's Economic Empowerment in the South Caucasus' with the financial support of the governments of Switzerland and Austria.