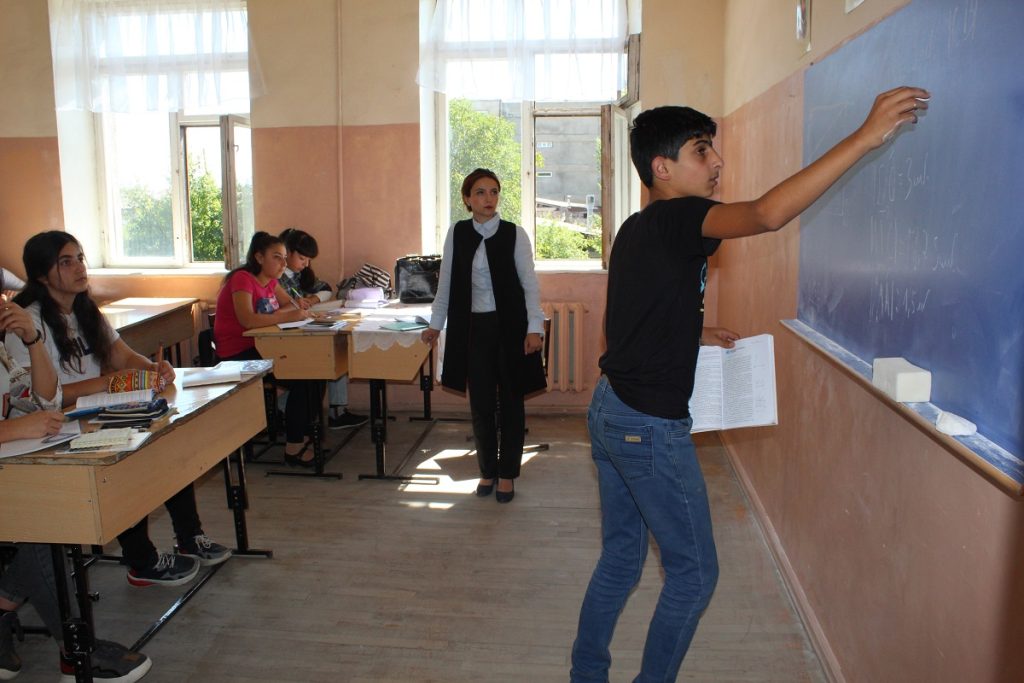 In Armenia schools and universities have been holding offline classes since September.  However, the school holidays were extended by one week and resumed in October. 
According to the latest survey conducted by Caucasus Research Resource Center-Armenia,  55% of students indicate that distance learning doesn't allow getting new skills, and 33% have  a problem concentrating on classes. Overall, 79% of students participated in online classes, but  65% of them don't want to continue education by distance method․ 
Educational specialist Goharik Tigranyan mentioned that pandemic has a huge impact on  education in Armenia. According to her, the authorities failed implementation in terms of  students' right to education. They couldn't satisfy the full standards of remote education.  Moreover, lecturers, students lacked knowledge of how to use technologies, and the  methodology of organizing remote education was not right. She indicated that " We can  separate two main vulnerable groups among students. First of them are socio-economically  insecure students who have problems with gadgets, the internet, and student who live in  families with more than 3 children. In the second group, we can include students who need  special education because remote education is not adapted for their needs". There were some  NGOs that share gadgets with students, but here Goharik said that there is no control over it  and whether the student who needs that gadget received or not. The evaluating the work of  authorities Goharik said "I have to be honest, that our Ministry hasn't policy about remote  education. In this case, the Ministry in terms of creating policy and laws is reactive, not  proactive. In the first month, there was a collapse concerning organizing remote education.  NGOs were organizing training of lectures by their resources. The state failed the remote education process". In addition, students who don't have any opportunity for online classes  didn't get any help from authorities. Goharik mentioned that the only thing done by Ministry 
is on July 1 adopted policy concerning remote education. However, she doesn't know how it  will be implemented, because there is no methodology.  
24 years old student from Yerevan State University Agnessa Sahakyan indicated that "Remote  learning provided an opportunity to manage my time. "When I am on distance learning, I can  do many things in conjunction with online classes and I don't miss them. That is more  convenient for me'. Moreover, she mentioned, that during online classes they discuss topics  with lecturers, but they don't receive materials before classes. According to her, remote  learning is a good opportunity for such students who have kind of limitations to attend face 
to-face classes. However, distance learning has a bad influence on her professional and  personal life. "Although distance learning sometimes is convenient, however, the result of it I  lack personal communication. During offline classes, I better remember learning materials,  techniques which were more effective for my profession" Agnessa said. 
Furthermore, Tatev Hakobyana student from Yerevan State University mentioned that  sometimes her lecturers send materials before classes to their mails. It allows them to know  the material in advance, participate in debates, and discuss materials with the lecturer.  According to her lecturers try to do group works and discussions with students. "Distance  learning is not very effective due to technical problems. The fact that at home we enter comfort  zone and our attention, desire to learn is decreasing" she said. To add to it, distance-learning  changed her daily routine. Now she spends more time doing other things, than concentrating  on classes. Moreover, amid online classes, she faced difficulties using gadgets. Difficulties with  using technologies hinder her as a result sometimes she loses the motive to study. However,  Tatev thinks distance learning doesn't have only a negative side. Online classes allow students  who work to combine their job with study.  
Another student Norayr Miskaryan has a positive approach toward distance learning as well. Before online classes, he had to miss some classes because of work, but now remote-learning  allows him to combine both of them. Norayr participated in online classes for one year and 
the educational process was effective for him. "Our teaching staff was 60% ready for this  epidemic. However, some lecturers provide us with interesting online materials and organize  educational process very productively". Meanwhile, Norayr thinks that exams should be face to-face, to maintain the quality of education.  
Giporter about remote-education also speaks with Anna Grigoryan lecturer at Yerevan State  University. She used Moodle Educational Management system to share materials with  students. She trying to use class time for more interactive activities. "Yes, I try to make class  interactive in the form of asking questions and letting students do the implementations of the  problems via sharing the screen, in parallel describing the algorithm they are going to  implement". Anna participated in a training about how to use Moodle system which was  organized by university staff. However, she faced difficulties during teaching online.  "Interactive communication is hardly reachable because of turned off video cameras of the  students and pure internet connection can cause interruption of the lesson. Sometimes  students hesitate to unmute and ask questions. The institution doesn't provide infrastructure  for teaching".