About
Homicide Georgia is a collaborative project to Inform the public about murder crime including femicide through enabling journalists to report on crime trends and communicate it better.
Homicide Georgia's aim is to create a parallel murder crime dataset in a transparent way that is not politicized and engenders trust, enabling journalists to better frame official data and statistics.
Project is to increase the capacity of Georgian journalists to use data and uncover stories by analyzing that data.
Project will create a body of stories describing crime trends and their impact on society. Create a body of stories holding the Ministry of Interior accountable for accurate, up-to-date, and accessible crime data.
Why is this important?
Citizens of Georgia can only speculate about the veracity of the data about homicide rate and it's features in Georgia, since neither the Ministry of Interior nor the Ministry of Justice have responded to requests for detailed crime data which would help shed light on the actual trends.. The absence of transparency in this case also not existense of specialized reporters leads to underreporting or sometimes overexaturation and sensational reporting which increases a fear and concern to grow among the public and undermining the trust in State institutions.
Collaboration between GIPA School of Journalism, JumpStart, Organized Crime and Reporting Project media organizations and journalists, civil society organizations, and public is a project that seeks to overcome the absence of official data and its veracity by building a homicide incident reporting tool. This tool will enable Georgians to report incidents of murder and journalists to fact-check each incident in a transparent way. This tool will enable journalists, civil society organizations, and concerned citizens to explore the homicide data in important ways, including by geographic distribution, category, and over time. It will allow anyone to contribute to data collection download the data and analyse it according to his/her needs. This project will enable journalists to report on crime trends in Georgia in a way that is currently impossible and provide the public with trustworthy news about their society so it can collectively make informed choices.
Homicide Watch Georgia's ambition is to become a truly community-driven reporting project covering every murder in Georgia.
We believe that how people live and die in Georgia, and how those deaths are recognized, matters to every citizen. We want to know what is the impact of this crime on families, victim's kids, community overall.
We want to record the losses of every family, all gender all neighborhoods in Georgia. We would track the outcome of every trial, to make sure that public is informed on these matters.
Methods used
Joutnalists will use original reporting, primary source documents and social networking to build the comprehensive public resources on violent crime.
Project history and presentation
The official presentation of the project is held on May 9, 2015 at Radisson hotel Tbilisi, where we present custom database technically developed by Jumpstart Georgia and supported data and stories about femicide cases reported by GIPA Journalism school students during the semester long Advance Reporting and Writing Classes. We invite all interested media autlets and parties to join the effort to track homicide cases and build the Georgia's complete public resource for the people who need it most: victim's families, suspects' families, all others affected by violent crime in Georgia and society as a whole.
Introduction
Femicide in Georgia
Homicide Georgia takes start by follwing and reporting number of femicide cases commited in 2014 in Georgia.
Every year approximately 70 000 women and girls are killed worldwide. Millions of abortions are made only because the fetus is a female. Actual numbers of femicide are believed to be much higher.
Diana Russel was the first to define femicide and thus pave the way to its study. According to Russel, femicide is murdering a woman by a man because she is female.
The killing of women, perpetrated by men due to hate, contempt , pleasure or a sense of property of women. (Diana Russell & Jane Caputi, 1990)
Later on, the Vienna Declaration defined femicide as murder of women or girls due to their sex (The Vienna declaration 2012).
There are several forms of femicide:
Torture, killing a woman by her sexual partner, a dignity-based or deliberate murder of women in an armed conflict, killing because of the dowry, sexual orientation, murder of indigenous females, infanticide, selective abortions of female fetuses, lethal genital mutilation, killing of alleged witches, etc. kinds of femicide related to carrying arms, trafficking, drug dealing or organized crime (The Vienna declaration 2012).
The Georgian Media reports of 27 women killed in the 11 months of 2014 brought femicide into the foreground and caused a public outcry. The headlines such as "Husband Cuts his Wife's Throat in the Village of Darcheti"; "Husband Kills his Wife in the Village of Dvabzu"; "In Marneuli, a 51 Year Old Man Rapes a17 Year Old Girl, Cuts her Throat, Burns and Buries her in his Own Backyard"; "Tragedy in Kobuleti: A Husband Kills his Pregnant Wife and then Himself". . . became recurrent.
Regardless of a broad Media coverage of femicide, the government scarcely paid any attention to it saying that it was biased. The high officials: the PM, Secretary or Deputy Secretary of the Interior, Justice or Education Secretaries downplayed the incidents saying that femicide numbers were about the same as earlier but this time they had not been swept under the carpet.
However, the situation changed drastically after the murder of 17 October 2014 when a former husband recently released from prison killed his ex-wife and then committed a suicide in front of the professors and students of the Tbilisi-based Ilia University.
Regardless of the contrary speculations, the official statistics made public on 20 November 2014 speak about 18% cut of criminal offences YOY, with 68.11% investigated (Interpressnews). The MIA reports between January-March 2015 are about the same.
It's hardly possible to analyze the problem due to the unavailability of the detailed information. Meanwhile, the analysis would prevent such crimes and help develop the appropriate polices.
My own analysis is based on the 1 October-7 November 2014 monitoring of the Media coverage of femicide cases in Georgia. There have been 78, 80, 85, 18 TV reports broadcast by Rustavi 2, Channel I, Maestro and Ertsulovneba channels (respectively) and 34 features published in "Kviris Palitra" and "Alia" newspapers.
I classified the reports according to the following criteria: the time, venue and type of femicide, the weapon used and number of children orphaned as a result of killing women.
The results showed that 3 cases involved girls under 17, 11 – women from 17 to 35 and 9 cases – females aged from 40 to 75. Most cases of femicide occurred in spring and autumn (March-5; April-4; May-3; September-3; October-5). In 5 cases fire arms (including shot-guns) were used; in 12 cases women were stabbed or axed and in 3 cases the murderers committed suicide.
10 cases of femicide were reported in the capital Tbilisi, the others elsewhere in Georgia (the towns of Ozurgeti, Khoni, Gori, Batumi, Rustavi and Kakheti region). 20 children were orphaned.
Most cases of femicide involved sexual partners. There were dignity-based ones when desperate women had to commit a suicide or beaten up.
The most femicide cases did not receive in-depth coverage in Georgian media: media coverage was mostly based on the accounts of neighbors or third persons who, on their part, relied on hearsay. The phrases like "they say" or "I've been told that" etc. were recurrent. In a number of cases neighbors pointed out that violence had taken place as a result of alcohol consumption but once again the issue was not duly covered.
Tiko Tsomaia
Femicide prevalence
In a perfect world, every country would agree upon a definition of femicide and collect relevant information in a systematic and comprehensive manner. But this is not happening , which leads to shortage in awareness of the problem and inability to develop evidence based practcies and policies; The data collected and reported in Georgia has limitations to answer basic questions: of victim charasteristics, offender charasteristics, relationship between the offender and victim, the forms of homicide and femicide. Data provided by ministry of internal affairs also contradict with the alternative data collected by activists or journalists which causes mistrust to State institutions. It's important to harmonaize the understanding of definitions of intentional homicide, practicies that could lead to death. Harmonization standardisation and proper calculation of the homicide rates (death per 100 000) are important also to implement and adapt policies and best practicies from the Europe and worldwide.
According to MIA 84 people have been killed in Georgia out of which 26 are female.
According to Preliminary Census data which was held in 2014 Georgian population is 3 729 635 . Calculation shows that homicide rate per 100 000 would be 2,1 that places Georgia in law homicide rate countries as for the femicide rates – it is 0.7.
In case if we calculate the femicide prevalence per 100 000 female population the number will be 1,3 (According to the latest census data female population is 1,951.0 ) which puts us again in law femicide rate countries. (see the graph)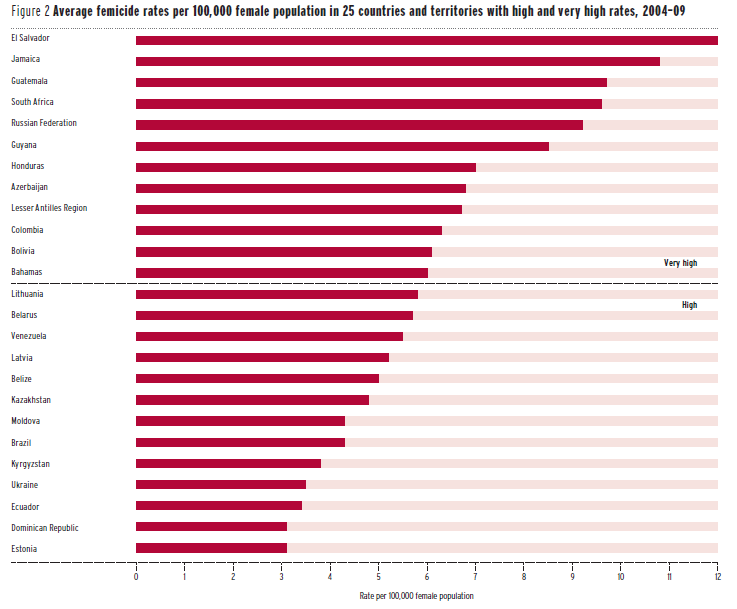 According to statistics provided by Ministry of Internal Affairs of Georgia, during the first 10 months in 2014, out of 79 murder cases (Article 108 and 109 of Criminal Code of Georgia), 77 of the perpetrators were men. Twenty six women were killed which makes 1/3 of all murders. Most killinngs were intimate partner femicides, eight women were killed by husbands, and three by their own sons.
In 2013, out of 104 murder cases, 96 men perpetrators kiled 25 women victims nine of them were killed by husbands. And 7 women were killed in burdensome circumstances.
In 2012 out of 89 murder cases 77 men peretrators killed 20 women. 10 women were killed buy their husbands.
The increase in frequency of femicides and all above mentioned prompted class of 2014 of GIPA to provide in-depth coverage of the femicide cases and fenomena itself.
We hope our special reports (on intimate partner femicide, honour killing and foeticide) and launching of the project homicidewatch will help citizens of Georgia to understand the fenomena of murder more clearly. There is much more to be covered and understood.